Google Screened Local Service Ads For Lawyers
Google Screened Calls For Your Law Practice
Plans starting at $149

What are Google Screened Ads For Lawyers?
Get your law practice Google Screened today. When locals are in need of the services you provide as a lawyer on Google, we make sure Local Ads Services can help your law practice show up first. Being Google Screened makes it easy for potential clients to call or message you straight from your ad campaign.
When using Google Screened Ads those who see your Ad will also be able to see real reviews of previous clients, while also being able to see you are a lawyer that has been screened and verified by Google.
Having a Google Screened badge will give potential clients the peace of mind they need to select you as their lawyer.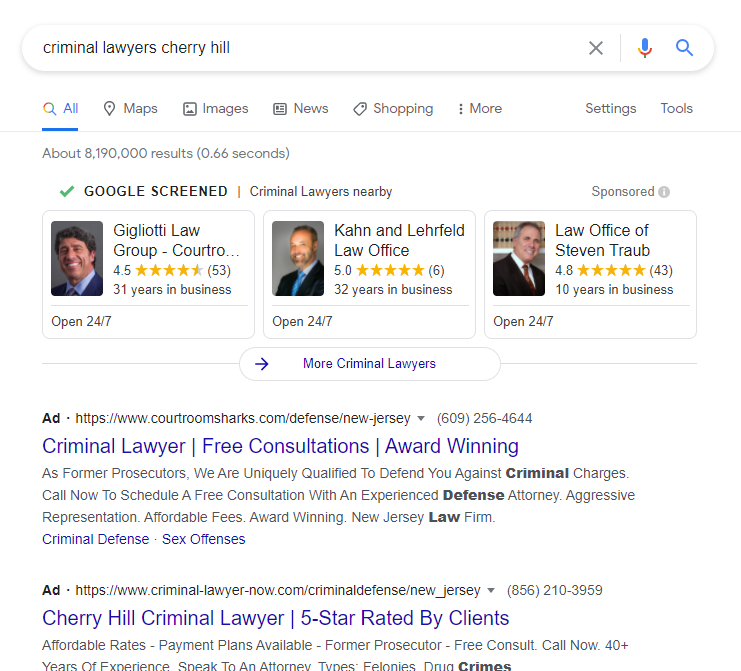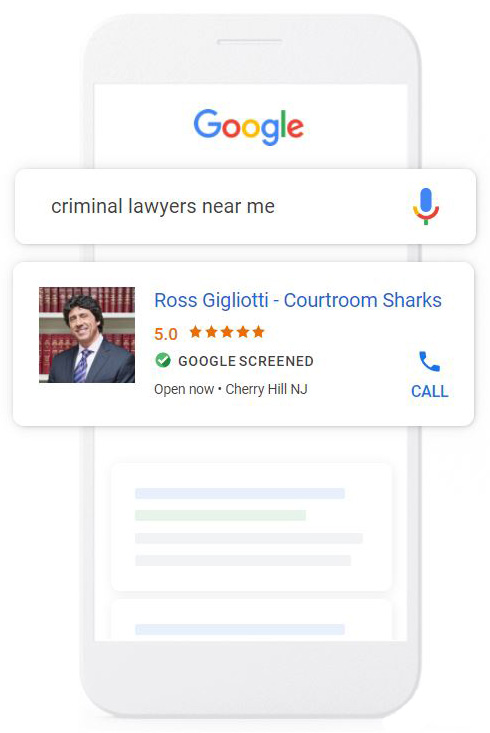 How Does Google Screened Local Service Ads for Lawyers Work?
Google Screened Ads for Lawyers are pay-per-lead Ads that allow you to connect with potential clients by having your law practice appear at the top of Google search results on both mobile and desktop.
Get Verified To Receive The Google Screened Badge
When signing up with Google Screened Local Service Ads, Google will verify your law practice and present your listing with a Google Screened badge. This will let local searchers know that your law practice is screened, trusted and verified by Google.
From there once verified, we help you determine your budget based on the number of leads you want to acquire a week.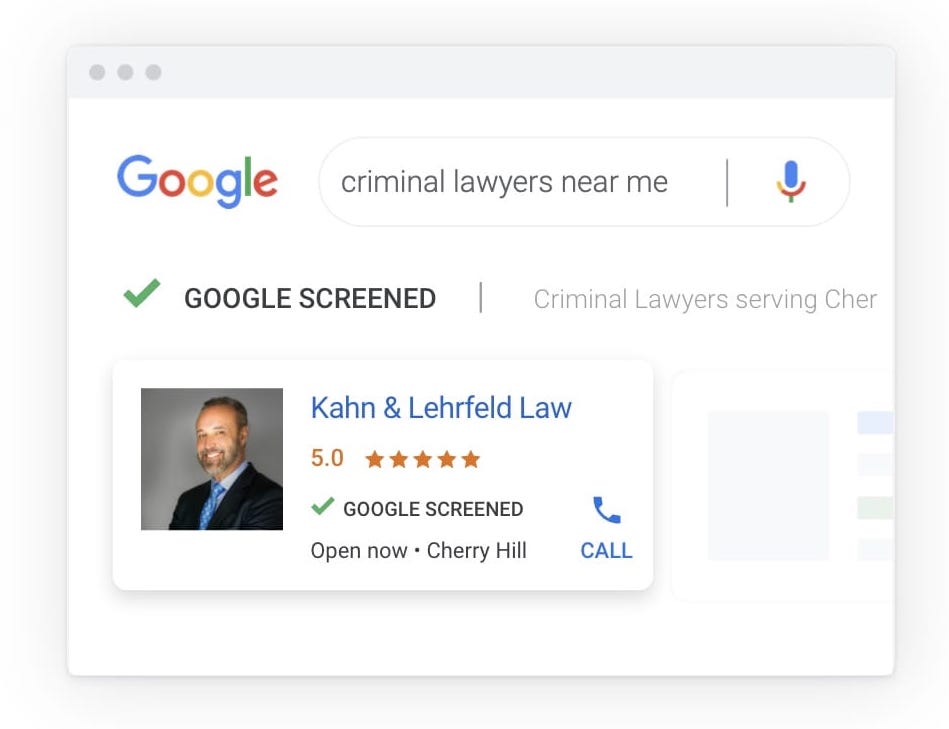 Why Get Google Pay Per Lead Services to Grow Your Law Practice?
Unlike Pay Per Click Google Ads Service, Paying per click through Google Local Ads Services means that you only pay when a valid and qualified lead contacts you directly through a Google Screened call.
Based on your budget, the number of Google Screened calls and leads you will receive will determine your monthly cost. This allows you to spend as little or as much as needed to get the results you want.
You will have no more worries of the potential of over spending your monthly budget. You will also have the ability to dispute leads that are poor quality or proven to be invalid.
Google Screened calls for lawyers is a great way to get qualified leads on a structured budget.
(Failure to pass the screening process will result in your practice being unable to participate in the Ads.)
What is the Google Qualified Lead program?
A Google Screened Badge Lets You Only Pay for Qualified Leads
The Google Screened badge helps lawyers attract more local clients. Google local ad services are a great way to stand out in your market and book clients from your market area and pay only when your Local Services ads work.
The EveryMerchant.com Google Local Ad Service team can have your law practice up and running in 3 Easy Steps. Let us help fill your Calendar at an affordable budget.
Get the Google Screened Badge today!
Google Screened Ads are available for lawyers in these practice areas
Bankruptcy lawyer
Business lawyer
Contract lawyer
Criminal lawyer
Disability lawyer
DUI lawyer
Estate lawyer
Family lawyer
Immigration lawyer
IP lawyer
Labor lawyer
Litigation lawyer
Malpractice lawyer
Personal injury lawyer
Real estate lawyer
Traffic lawyer
Or Call Us Now To Start Your First Campaign

Not a lawyer? Get your contracting business Google Guaranteed!
Attorney Ross Gigliotti discusses his successes with using Every Merchant




Featured Local Marketing Services & Tools